"More and more people are looking for a more environmentally-sound, less stressful and more rewarding way to travel than simply flying everywhere."
Mark Smith is a fortunate man. He is the man in Seat 61 who has taken his blog from a personal passion to a public one; enabling him to earn a living through what he enjoys most – the Rail system and all it offers.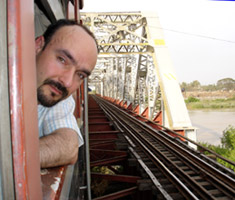 Just a reminder… Seat61.com is not a company or a travel agency, but a personal website originally started as a hobby.
His multi-award winning blog* www.seat61.com offers enough information to bring the romance back into the notion of rail travel. So, if you're looking for something different then this site is a great place to start!
* Best Travel Website: Guardian, Observer (2008) and Wanderlust (2007 & 2008)
Originally posted 2008-10-20 15:09:47. Republished by Blog Post Promoter